Other projects
Valentina Smolenskaya also works with other techniques (besides painting and lacquer miniature). For instance, she created a series of works for the website of Nekto Nikto in black and white graphics, and used colored graphics for her project The Dreams of a Big City.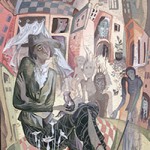 Inspired by familiar Severodvinsk tempera wood painting, the artist creates her own technique that she useв for her project Tree of Life.
Valentina also experiments with styles and techniques when painting traditional Russian nesting dolls.